Facility Management
Why use facility management software
The digitalisation of the world and business processes affects all sectors/organisations, including facility management.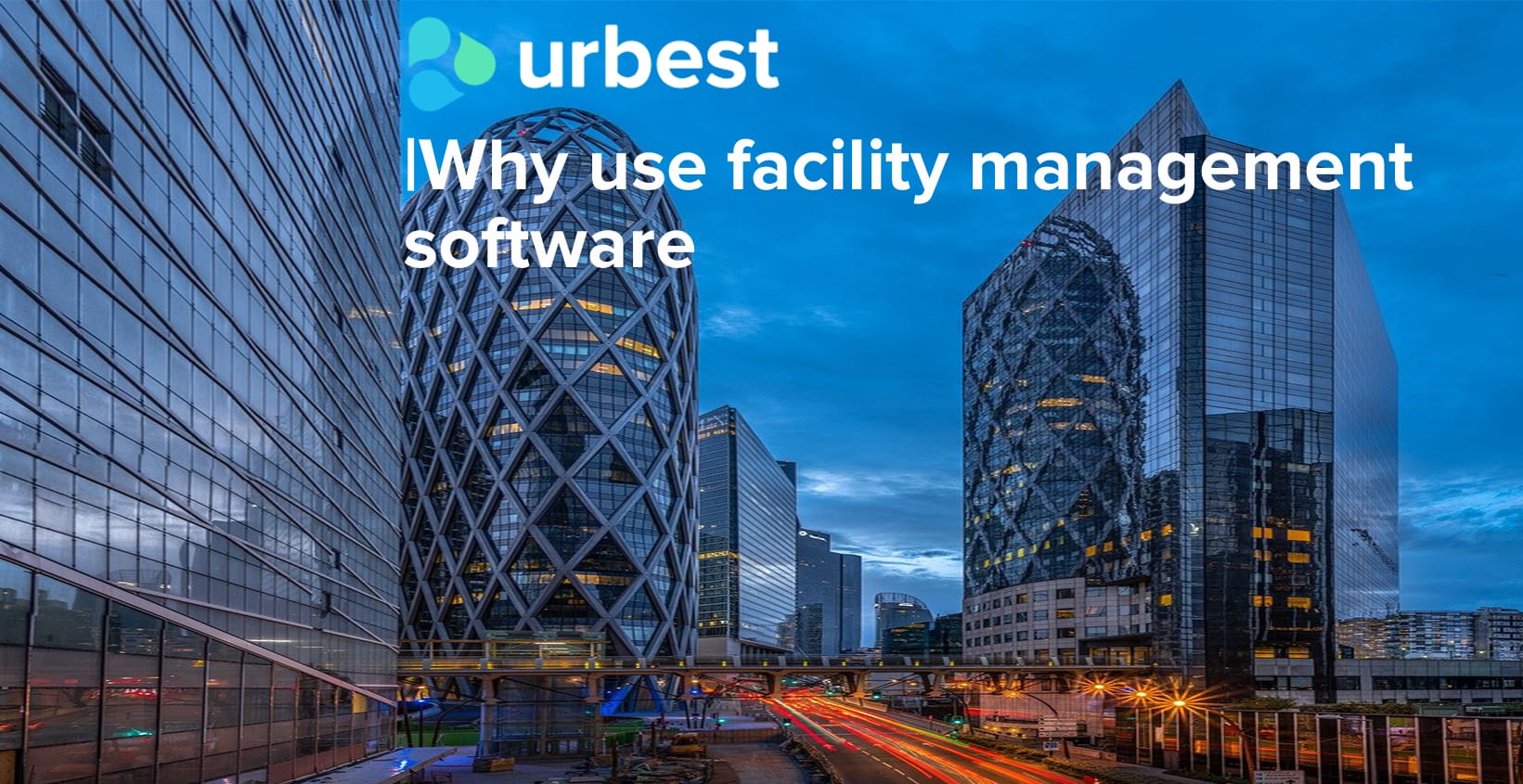 General services refer to all services necessary for the normal functioning of a company.
Examples of activities include mail management, purchasing supplies, building maintenance and cleaning, maintenance of green spaces, management of facilities, fire and security systems, access rights, and energy: electricity, heating, ventilation, and air conditioning.These terms generally refer to an internal activity within a company. If these services are outsourced, the term "multi-services" or even multi-technical is more frequently used, or in English: "facility management".
The digitalisation of the world and business processes affects all sectors/organisations, including facility management. It will be useful for your company to be equipped with software (collaborative SaaS or CMMS) in order to manage all these services and stakeholders, whether they are internal or external.In this article, we will look at all the benefits of using a digital solution for facility management.
Introduction: What are the main services in facility management?
Before getting to the heart of the matter, we will define the types of services that you will encounter in facility management.
We will separate them into two groups: multi-technical (Hard FM) and multi-service (Soft FM).Hard FM concerns everything that has to do with maintenance, essentially M&E (mechanical & engineering) and maintenance, with a non-exhaustive list of services such as
a) Maintenance of building assets, called technical management or "M&E" for mechanical and electrical services.
Air conditioning management
Lift management
Workspace sizing
Ventilation
Control office audits
Environmental services, such as waste management and recycling

b) Hard FM will also include the maintenance of all the equipment (or assets) mentioned above.
Soft FM is all about people and is labour intensive. Here is a non-exhaustive list of the different services:
Catering
Cleaning
Security (building access control)
Occupational health
Mail distribution
IT services
All of these services will be of vital importance in the operation of your building.In this article, we will look at the usefulness of having a computer system for task management and the automatic activity reports that come with it.
1- Facilitating transition between suppliers and reducing mobilisation costs

When renewing maintenance contracts, managing changes of service providers in real estate and facility management is often a difficult period because it involves many people and a transfer of habits, information and know-how.Indeed, if the current service provider is no longer satisfactory and is not renewed, you will have to choose another with a new consultation of service providers, offers to be analysed, etc.
Very often for a company not equipped with a platform, the data is directly at the technicians of your providers who have their own tools. This is a point of vulnerability.This will lead to additional costs to your change and will sometimes force you to renew a company whose services you are not satisfied with.
The benefits of owning your own software will allow you to anticipate these situations and not find yourself unprepared:
You will save time when changing companies
You will reduce the costs linked to the operation
The integration of the service provider will be faster
Having a better organisation will also allow you to be more reactive and efficient.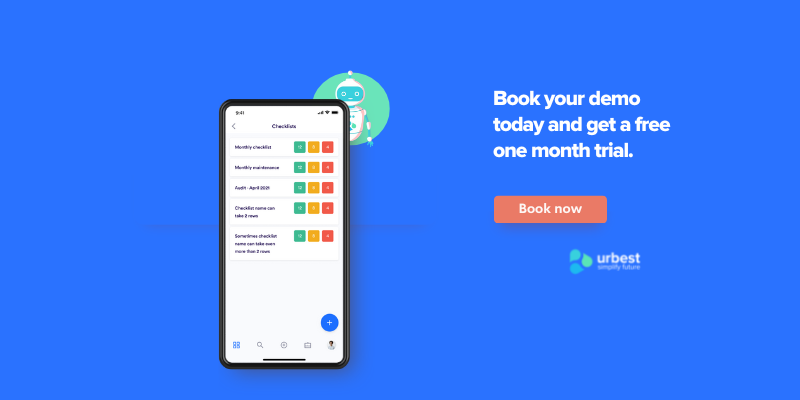 2- Increasing efficiency
A collaborative platform for facility management and maintenance such as Urbest will have many advantages for your company and your clients, as its many fully customisable functions will improve the monitoring of tasks and internal and external participants for a manager.
The mobile format of the application will enable your technicians to be more responsive by receiving and reporting on interventions directly from a mobile phone. Your users will appreciate a mobile system rather than a computer in the basement!These collaborative software applications allow greater flexibility than the olds CMMS, as they are more easily configurable and customisable and will allow you to get used to them quickly.
In addition to the possibility of using them on a smartphone, unlike CMMS, the ease of use will save you training costs when recruiting new technicians.
Once the parameters have been configured: (in 30 minutes with Urbest)
Building
Service
User
Technician
Equipment
You will be able to start collecting information and data thanks to your tool that will allow you to more easily set up action plans and improve your maintenance plan.Finally, depending on your industry, the security of having your own SaaS software and data can help you win contracts and stand out from the competition.
3- Managing your time-consuming tasks and reminders
In many cases in the real estate facility management sector, you will have to manage numerous administrative tasks as well as regulatory verifications. With a collaborative software package with checklist or planned intervention functionalities such as Urbest, you can be relieved of these time-consuming tasks.
The editing of invoices directly from your tools will also allow you to better manage your accounting.
4- Analyse and use your data
Once all the information has been filled in by your technicians, collaborative task management software will provide you with a lot of data on your interventions.
The traceability of information will help you to respond to the requests of your customers, technicians and service providers.
Software such as Urbest will provide you with detailed information concerning the interventions of your technicians, including
The type of intervention
The duration of the interventions
Photographs of these interventions
The average resolution time of the interventions
All of this data, which is essential in facility management, should be used and analysed in order to make the most of it, and will enable you to find solutions to the problems encountered in order to improve your work.These analyses will also enable you to draw up more precise reports at the request of your clients.
Urbest's automated real-time activity reports (see photo below) will give you all the information you need to manage your operation.The value of this real-time report is that a manager can discuss concretely what is going on and understand why responsiveness or satisfaction is at this level.
5 - Be digital with a modern service approach

It is not enough to be a digital company, you need to keep up with new working methods in order to remain efficient and meet your customers' expectations.
Indeed, all facility management companies use IT solutions, but very few use software or applications that are in step with the times. Collaborative systems are still not widely used.Maintenance technicians are often equipped with smartphones but use them to make calls and send text messages for reporting purposes.
With the advent of apps and unlimited data plans, you can afford to install collaborative management software directly on your employees' smartphones, and the continuous updating of features will ensure that you have a tool that continually meets your needs without the need for additional installations.
6 - Organise your work processes
The software created to manage the various internal or external processes has long been based on professions.These new working methods allow for much better monitoring of equipment, objects or inventories, known as "assets" in English.
The very hierarchical silo management of your teams and the relationship between manager and employees is also challenged by the arrival of a new solution in your company.All users equipped with the solution have access to the information that concerns them. They will be able to create data used for your reports, which is not possible with some of the old cmms tools.
Unlike a traditional tool, this collaborative technical management enabled by SaaS software differentiates itself by involving all parties in continuous improvement as well as internal and external processes.
Finally, we have seen in this article the benefits for your organisation of having collaborative management software. Whatever your field of activity and more particularly in real estate and facility management, data and action tracking are essential for good management and for improving your processes.Don't hesitate to think outside the box and use new tools, traceability of information may seem complicated to put in place but in the long run you will benefit your company and your customers.
Do you have a question about this article or do you need more information? Contact hugo@urbest.io
Sign up here to receive the latest tips.