Change Management
How Much Should You be Spending on Building Management Software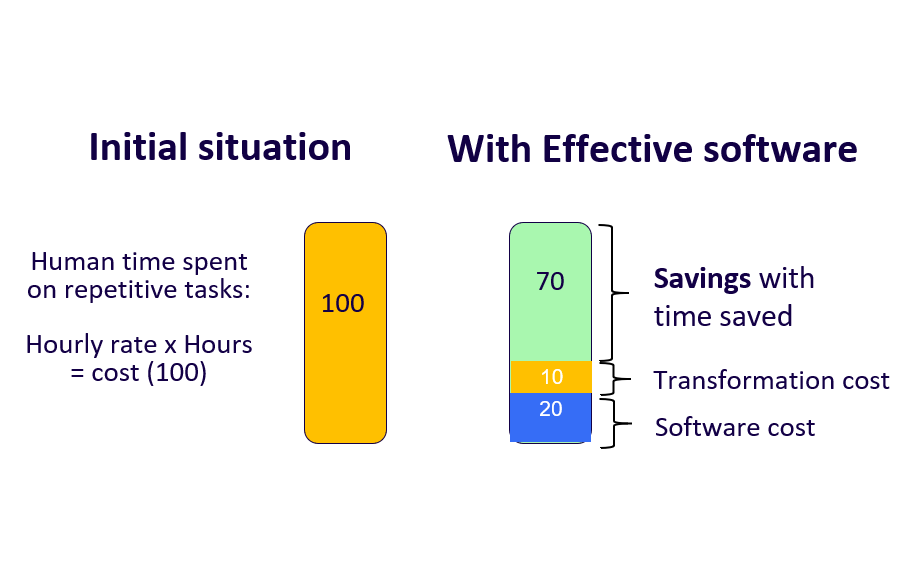 Good, effective property management software should help you to improve on customer satisfaction (thus increasing your profits) and decrease time spent on tasks while helping you to better manage your resources (thus lowering your overhead).
Naturally, the amount of money you should spend on such an important tool will depend on many factors, notably the size of your business and the size of your maintenance team. There are several good building management software packages on the market. And they can range significantly in price. However, there are some guidelines and ratios that will help you make such an important decision.
Important elements to consider in the price of your building management software:

Is the software compatible with the size of your business?
Is the pricing flexible? Will the software allow you to evolve as your business grows?
How complex or expensive is the onboarding process?
Are there hidden costs, such as training or installation?
The monthly or yearly subscription price of a building management program doesn't always tell the whole story. Some software packages may be unnecessarily complex for your needs; others may be poorly designed and will require extra expenditures and time wasted in training or even in outsourcing technical help to onboard or upload your current database or to sync with other programs or platforms you may be using.
The better the design of the software, the more user-friendly it is, the less likely you will suffer from hidden costs such as continuous training and outsourced tech support.
Effective software costs a fraction of the value-added it provides.
Whether you are in the market for facility management software for churches or commercial or residential rental properties, the goal remains the same. Any good digital service needs to perform a task that either a human cannot do or to perform it in significantly less time. When choosing the building management software package that is the best fit for you, you must have a clear understanding of the human costs you are saving.

Recent statistics compiled by the U.S. Bureau of Labor Statistics show that a property manager in the US will make anywhere between 25k to 112k annually.
As for property maintenance workers, their salaries are a bit easier to forecast, as shown in the following graph:
Once you have determined how much you are spending on staff for property management, maintenance and overheads, you will need to determine how much the right property management software will allow you to save back.

With hourly wages, the data will be more precise, and it will be easier to calculate your savings.
While you can't eliminate the human element entirely (nor should you want to), effective and well-designed property maintenance software pricing will enable you to significantly reduce the number of hours your team spends accomplishing their tasks and in particular collecting, supervising, processing, paying and archiving.

How much to spend on CMMS will depend largely on the current size of your operation and your expected growth (provided you get a building management system software that can grow with you).
To take a real-world example, a subscription for a well designed real estate property management software from Urbest starts at six-hundred dollars a year. This service allows you to streamline and speed up communications; track, rate, and analyze the work done; as well as enable you to monitor or flag payments. All of these tasks, which were previously carried out by staff using older technologies and slower means of communication and organization, take time. And the adage is true: time is money.
How much time are you wasting waiting for the right information to be transmitted to the right party?
How much time are you wasting tracking down payments?
How much time do you lose before you can respond to a maintenance request?
How much of a value do you place on stress relief?
How much of a value do you place on customer satisfaction?
Once you've added up those costs and value estimations, you should come up with a number that is a mere fraction of the price of a CMMS. To estimate your time saved, you can reckon by person daily tasks and figure how many hours/minutes are saved each day and convert that into yearly cost based on price per hour.
Thus, effective and well-designed property management software essentially pays for itself, and then some.
When researching the many facility management software packages on the market, the temptation is to go with the one that advertises the lowest price. You want the best bang for your buck. But advertising can often be misleading. When conducting a maintenance management software price analysis, do not let yourself be fooled by companies advertising a low, yet woefully incomplete, price.
How much and time and money will you need to spend on onboarding?
How much time and money will you need to spend to train the staff to use the software?
Will you be required to pay for tech support?
Will you need to pay for updates?
As your company grows, will you need to pay for additional services?
The good news is that there is a wide range of facility management software companies on the market. However, keep in mind that choosing a building management software that is easy to install and easy to use will go a long way toward reducing the overall expense incurred.
Several CMMS companies on the market offer free trials. This could be an excellent way to determine whether you are getting a good value for your dollar/euro, provided you are not bogged down in learning how to use or install complicated software packages. Even if you have a dedicated IT staff or IT person, he or she surely has better things to do than spend their time on what essentially supposed to be a time-saving tool.
In addition to the cost savings a good facility management software service will provide, it should also increase both worker and customer satisfaction. Clear, precise, and quick work requests make the job of your maintenance staff easier. Clear, precise, and quick customer feedback makes the job of your management team more rewarding. And clear, precise, and quick invoicing and payment tracking make the job of your accounting team easier and more effective.
Good communication leads to positive results that aren't always easy to assess with a dollar amount. Even though the CMMS you choose to work with should lead to quantifiable cost savings, the benefit it has on the overall satisfaction of your team and your customers should not be underestimated.
In conclusion:
Regardless of the size or scope of your business, to get the best value for your money you will want to choose a CMMS that can boast the following advantages:
Easy to install/unplug and onboard
User-friendly
Flexible and able to grow along with your company
Facilitates and speeds up communication
For more information, why not request a free demo today?